VAN MORRISON

at Rancho Nicasio
OK. Let me just state this right up front:

At 4:00 PM, on March 2, 2006, at Rancho Nicasio, CA, Van Morrison delivered
one of the best and most exciting performances I've witnessed in a long time.

Now, bear in mind that I have seen Van live over 20 times!
Living where I do affords me the chance of seeing him every year as he comes thru town
on tour to visit family & friends. I haven't seen EVERY show, but I've been to a great many.
I once saw him from only about 20 feet away, but that was on an off night
when he had the flu and his voice kept cracking.

THIS show was the Real Deal!

Perhaps it had something to do with the fact that I was one damn lucky soul trapped
in a country barn with 190 other damn lucky souls and Mister Van Morrison!!

Let me set the scene for you...

As you may already know, I was able to secure a couple of tickets to an unadvertised,
private show at Rancho Nicasio. In order to be sure that I got a good seat,
I took the day off to arrive at the venue by 1:00 PM. (About an hour's drive fron San Francisco.)

Not surprisingly, there were a number of people already there, milling about outside the building.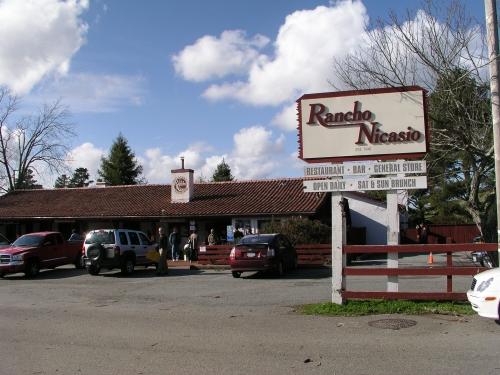 Now, Nicasio is pure cow country. Ranches for miles and not a hell of a lot else.
The Rancho building, in addition to being a small nightclub, is also a Restaurant,
General Store AND the Post Office!

Here's a view from the door of the club, looking out at the surrounding countryside.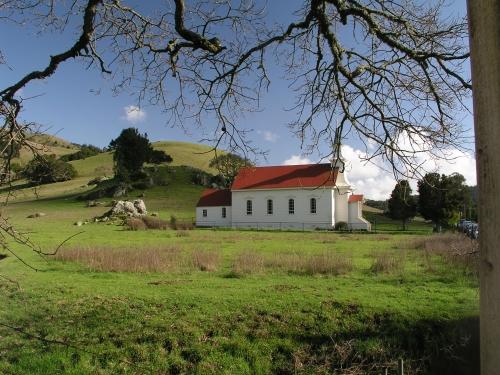 The club was expected to be open at 2:30 and it seemed odd that no one had yet
formed an orderly line outside until someone emerged to announce that there would
be no need to rush the door, since all seats were assigned.
"OK," I thought, "I hope we get seats not too far in the back, behind the industry heavyweights
and Van's extended family." But who really cared? We would be in the room!

My friend Jeff, who lives out in the country only 15 minutes away from Nicasio, joined me at 2:00 PM
and we had a good time catching up on things. The doors finally opened and after a while
a young woman escorted the two of us into the club room.

The room was laid out with about 10 rows of wooden restaurant chairs down front
and a series of tables and chairs behind them toward the back.
Our heads just about exploded as the woman led us all the way down to the THIRD ROW
and then pointed out our seats, dead-center, right in front of Van's microphone.
I took this picture with my camera phone once we had settled in.
This was the actual view from my seat!!!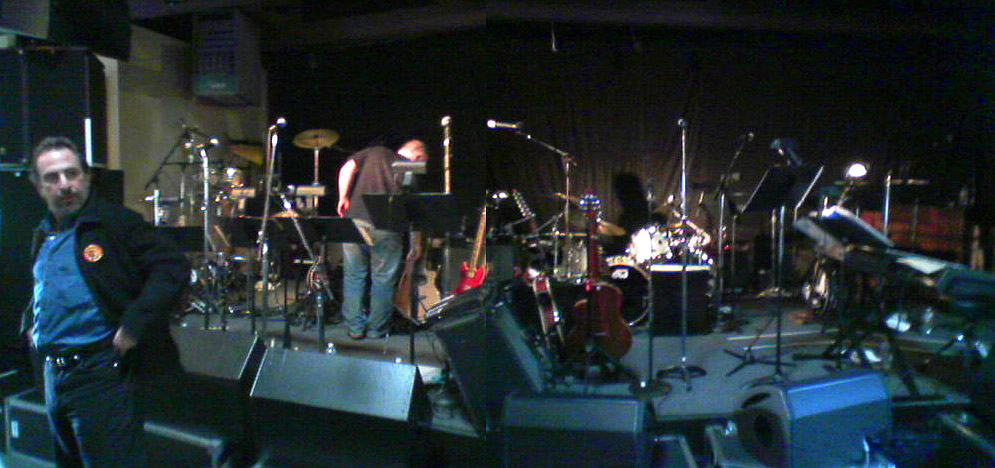 I did not dare try to take a snapshot once the show got going, though.
Van has been known to fly off the handle at the slightest provocation and I didn't want to be the one
who ruined it for everyone. Besides...I was sitting right in front of him! He would have seen me for sure!

Luckily, the local newspaper was given access and here's a photo I stole from their website.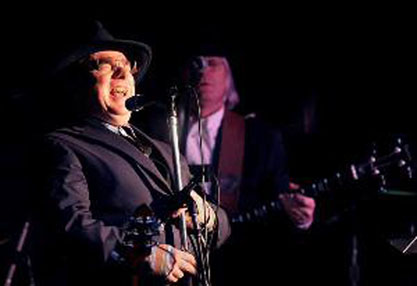 Jeff and I had a good laugh each time a new pair of folks were brought down to the seats in front
and their faces registered shock, disbelief and then utter delight.
It turns out that Van specifically designated these seats for the folks who got their tickets
through the Internet Fan Club. Clearly it pays to be a focused and dedicated stalker sometimes!

The show began at 4:00 PM sharp as Van and his band of nine took the stage.
Instantly it was apparent that The Man was in fine voice. The band sounded great, and they kicked off the show
with "Did Ye Get Healed," featuring some honking brass with Van upfront on the saxophone as well.
"Magic Time" followed and Van's voice was strong and clear, with great shading and nuance.
A jazzy, smoky nightclub version of "Have I Told You Lately" came next and Van joined in again on sax.

Next up was "Fame", from the 2003 CD "What's Wrong With This Picture".
As he is wont to do, Van ripped into celebrity culture and the music business with real venom.
A cranky tune, it was played with great vigor.
A significantly slowed down "Tore Down a la Rimbaud" followed this and was quite a nice
departure from the original version. It took me a few minutes just to place the tune, it was so radically altered.

Next came a foray into some of the Country stuff.

For this portion of the set, some of the core band members (horns, organ, vibes)
left the stage to be replaced by Country musicians and vocalists.
There were three backup singers from Belfast, a fiddle player guy and a woman on dobro and pedal steel
(these last two players from the long-time country swing band, Asleep At The Wheel).

"My Bucket's Got a Hole In It," "There Stands The Glass" and "Big Blue Diamonds"were great fun .
Classic, cry-in-your-beer, honky-tonk tunes, they were played straight, even though some of the
cornball lines elicited a flurry of laughs now and again. The steel guitar and the fiddle were really wonderful
and pushed the music toward a real Nashville sound. "Things Have Gone To Pieces" was particularly amusing,
even to the point of getting a chuckle or two out of the usually stoic Morrison.

The rest of the band returned for a swingin', big-band infused "Moondance,"
with each player stepping out for an improvised solo when Van pointed at them.

We talked with Jason Roberts, the fiddle player, in the bar after the show and he told us that he got the call
to join the band only this past Saturday. He was given ONE rehearsal and when Van had pointed at him
for the first of many solos, he had a moment of pure, "Oh, Shit!" terror before diving in with his contribution.
Van seemed pleased with him and when we saw the band again last night at the much larger Masonic Auditorium,
the fiddle solos were longer, looser and more frequent. I guess Jason passed the test!

"In the Midnight" came next and was lovely, but too short. I would have preferred if it went on forever.
Once more, the Country musicians were given room to stretch. This time, Cindy Cashdollar (her REAL name!)
kicked ass with her pedal steel guitar solos. Her sound had a weird, fuzzy, distorted and almost Hawaiian feel to it
and was so beautiful, I wanted to weep! This was perhaps my favorite song of the night... uhh.. I mean DAY!

Then it was back to more Country & Western with "Pay The Devil," "This Has Got To Stop".
"More and More" featured a guest vocalist, Van' daughter, the lithe and lovely Shana Morrison.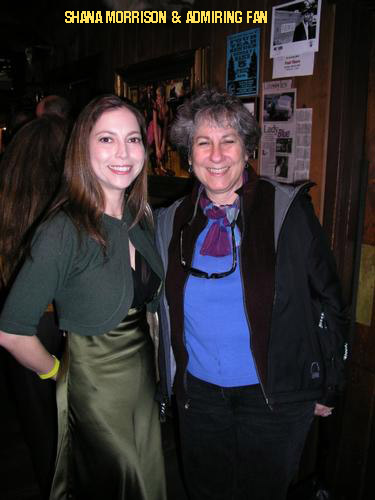 I thought their voices blended especially well on that song and wished Shana had stayed for more.
I liked hearing them together, even though, in terms of lung power, Van blew her off the stage.
"Playhouse" was next, followed by the Hank Williams' classic "Your Cheatin' Heart" and then
Big Joe Turner's immortal "Don't You Make Me High" which had a few in the crowd hootin' and hollerin' at lines like:
"Don't you feel my thigh, or you'll get a surprise, Oh, don't you feel my leg!!"

Everyone, both band configurations, now crowded the stage for a 15-piece band rendition of "Stop Drinkin' ".
The rowdy party atmosphere continued on into "All Work and No Play" and they ramped it up into some
serious boogie-woogie, Jerry Lee Lewis-style Rock 'n Roll.

"Brown Eyed Girl" came next and as always, it was a crowd pleaser.
Van introduced it, saying, "Now we're gonna do the money song!"

He took the time to sing it straight and right, but then added, after the song was over,
"After 38 years I am still waiting to be paid for that."

I doubt if Van will ever stop bitching about the music biz and he's gotten some real mileage
and more than a few songs out of that. He truly did get screwed big-time out of millions during the 70's,
so I guess he's got a right to complain...but we don't call him "Mr. Grumpy" behind his back for no reason.

"Celtic New Year / The Healing Game" started to wrap up the set and Van took his time milking it.
It was an extended, exuberant coupling of songs and absolutely my second favorite of the DAY.

And then the encore, which just floored me.
It was a real barnburner version of his classic "Help Me" from the legendary 1974 live album "It's Too Late To Stop Now".
It was a rollicking, bluesy show-closer and a good time was had by all!

Ninety-three minutes from start to finish and nary a wasted moment between songs.
It wasn't like the old days when Van would play 2 1/2 hours or more,
but it was a powerful and awe-inspiring afternoon hearing some of my all-time favorite music.

As Jeff and I concluded afterwards..."That did NOT suck!"